PLEASE DO NOT USE THE DRIVE IN FRONT OF THE SCHOOL TO DROP OFF OR PICK UP STUDENTS…
Unless checking students in or out of school during the school day between 8:45am-3:58pm, use the car drop-off / pick-up line on the North side of the building.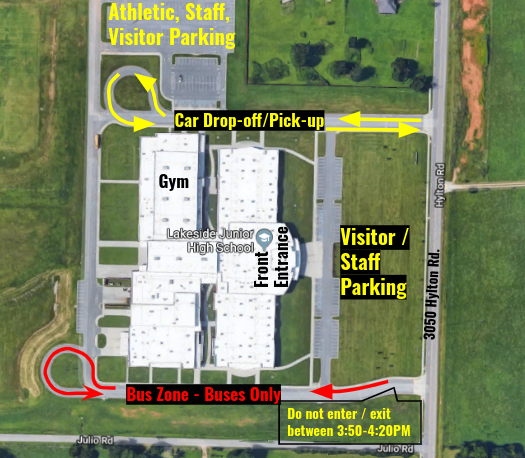 Bus riders enter through the South side of the building, go to the Commons/Cafeteria.
Car riders, walkers, bicycle riders enter North side of building, go to the Commons/Cafeteria

Breakfast is served 8:15—8:45am.

Lakeside will open its doors at 7:30 a.m. for students who get to campus early. These students will need to report to the Commons/Cafeteria and follow morning procedures.

Students arriving after 8:45 AM must check in through the front office by a parent or guardian.
Dismissal bell rings at 4:00 PM.
All students must exit the building by 4:10 PM (unless they are under the direct supervision of a teacher or coach).

Bus riders—dismiss through South doors of building.

Car riders and walkers dismiss through North side of building.

Students should not walk through parking lots or grassy areas and must follow designated walkways.

Students are to exit the building at 4:00pm and either wait to be picked up at the Parent Pick Up line (North of building) or on the Bus Pick Up area (South of building).
Visitor parking is on the East side of the school at the front entrance. All visitors must check in at the front office.
Visitors for athletic events or Parent-Teacher conferences can park in the North parking lot by the car drop-off & pick-up line.
**Students are not allowed to be picked up or dropped off in front of the school building before or after school hours. For safety reasons, parents / students should only use the NORTH car pickup line.**